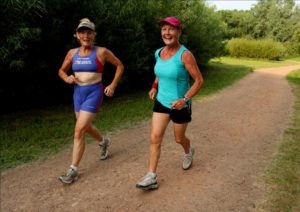 We all know that exercise is important to our health. It aids in maintaining our weight, reducing blood pressure, and helps to prevent injuries among other things.
However, there are a few lesser known benefits to exercise that aren't discussed as much as the more popular benefits In this recent post from Natural Solutions Magazine, they give us 6 of these lesser known benefit of exercise:
"Most people have at least a vague understanding of why exercise is good for them. Keeping fit, losing body fat and improving cardiovascular function are the benefits many are familiar with. However, these have not successfully provided sufficient impetus for many people to get off the couch and start breaking a sweat with regularity.

Only 1 in 5 Americans achieve the recommended two and a half hours of rigorous exercise each week. An emerging body of evidence demonstrating the less well known but compelling reasons exercise is vital could help change this. Here are some of the lesser known benefits of keeping fit.

1. A Healthier Brain

Exercise has been linked to faster learning, better memory and lower depression (for a primer on depression, see PriceProPharmacy). Studies have also demonstrated that exercise is the most effective way to delay or prevent the onset of Alzheimer's. Scientists have not yet conclusively zeroed in on how exercise changes the function and structure of the brain but it remains a vibrant area of research.

What they have established so far is that exercise betters the flow of blood to the brain as well as nurtures growth of new brain cells and blood vessels. Much of this is as a result of Brain-derived Neurotrophic Factor (BDNF). BDNF stimulates neuron growth and repair of brain cells. It also helps you concentrate more.

2. Increased Happiness

Numerous studies over the years have shown that various forms of exercise, ranging from walking to cycling, can relieve depression and make one feel better about themselves. Exercise releases dopamine, endorphins, norepinephrine and serotonin in the brain, all of which are chemicals that relieve stress, lighten mood and dull pain.

For years, scientists and healthcare professionals focused almost entirely on the physical benefits of regular exercise while ignoring the emotional and psychological advantages of staying active. Yet, the psychological benefits are just as if not more important to living a well-rounded life.

3. Slows Aging

Exercise can lengthen your life by as much as 5 years. Even moderate intensity routines can significantly slow down cell aging. As humans grow older and as their cells continue to divide repeatedly, the telomeres (a protective shell at each end of a chromosome) becomes shorter."
As you can already see these first three benefits are extremely important. But, don't think you have to be running marathons or killing yourself everyday exercising just to get these benefits. Most research shows that you can see amazing benefits from exercise just by walking 30 minutes per day. We all have at least 30 minutes per day to spare to improve our health. It's just a matter of where you put your priorities.
To see the next 3 little known benefits of exercise, keep reading the article over on naturalsolutionsmag.com.
Photo By Nene Park Trust